Checks are still cool.
Banking may have gone high tech but checks are still very much in use. Writing a check is a safe and secure way to pay bills and transfer money between people and businesses. Here's how to do it.
The basics.
When you write a check, the money is withdrawn from your checking account, although not immediately, as it takes a few days to process it. You should write checks for only the money that you have in your account. Going over the total amount is not a good idea.
Protecting yourself.
Always use a good pen to write a check so no one can erase or change what you've written. Write clearly, accurately and complete every section so that your check clears as quickly as possible.
You can help protect yourself against fraud just by learning to write a check properly. For instance, only you should sign your checks and your signature should always look the same. Write your checks without leaving big gaps of space so that no one can make changes to your check. If you do make an adjustment, initial the space next to the change.
Remember: Always destroy any checks you have voided and never sign or give a blank check to anyone.
The parts of a check.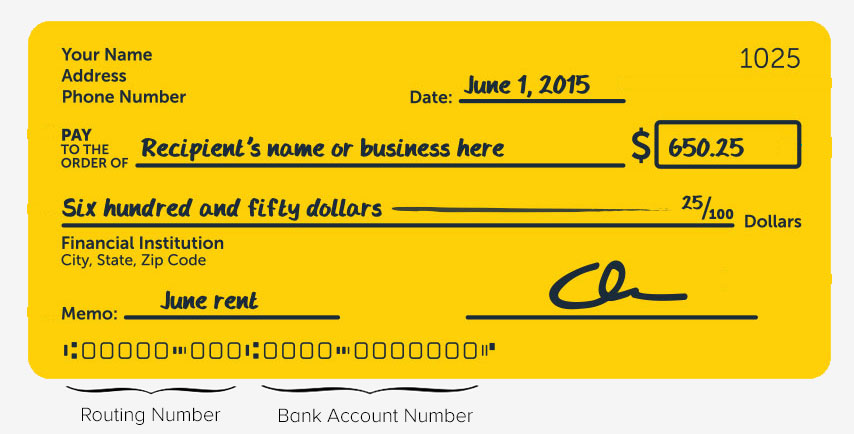 The maker or payor is you. And the payee is the person you write the check to.
1. Date
The date section always appears in the upper right-hand corner. Write today's date either way: June 1, 2015 or 6/1/15.
2. Pay/To the order of
This is the person or company who is getting your money. Write out their full name correctly.
3. Dollar Amount
This is the amount you're paying with this check. Write it out in numbers to the penny and do it right next to the $ sign like this: $10.50.
4. Written Amount
This is also the amount you're paying but written out in words. Start at the very left of the blank with the dollar amount. Then draw a line through the remaining blank space until you get to the "/100" area. Put the amount of cents over the /100 like this: Ten dollars–––––––––––––––––––50/100.
5. Memo
This line is optional but you can use it to remind yourself what the check was for like "March rent".
6. Signature
This is where you sign. Your check is not valid or payable unless it has your signature.
Check Register
This is the booklet that comes with every set of checks. Use it to list the checks you write and add in any money you deposit so your register is always up to date.
Staying on top of your account helps you avoid "bouncing" a check. A bounced check is also known as an NSF check (non-sufficient funds), when there isn't enough money in the account to cover the check. Your bank may charge you a penalty or fee for this.
LEGAL DISCLAIMER: Information provided on the Financial Education section of this website is believed to be accurate and reliable when placed on this site. Money Mart cannot guarantee it is accurate, complete or current at all times. Information on this site is for informational purposes only and is not intended to provide financial, legal, accounting or tax advice and should not be relied upon in that regard. You should seek guidance from a certified financial advisor or credit counselor for specific advice that is applicable to your individual situation.
Use our store locator to find a location near you.